My Self Essentials for August, 2020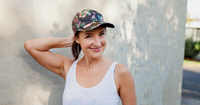 Hello beauties!
I've been in lockdown for the month while teaching our Self:Partnership course. I've made it my little mission as part of S:P to start finding things I love to do, things that inspire me and things that help me feel good which I'll share with you each month. I figure we can all support each other to focus on things that brighten our spirits!
So here are my list of feel good treats:
Reading: Love Warrior and Untamed by Glennon Doyle 
While not everyone's cup of tea, as I went on my own Self:Partnership journey I read about being a woman and some of the struggles we go through.
I came across Glennon Doyle's books 'Love Warrior' and 'Untamed'. Both are autobiographies about her journey through addiction and love. She's funny and a really beautiful writer. I really resonated with some of the ways she felt she had to change herself to fit into a mould.
Watching: Words by Gangaji and Eckharte Tolle 
Here are two videos I shared at the end of the Self:Partnership journey: One is by Gangaji - in which she talks about being willing to be hurt in love...'We might feel pain. So what?' She says.
And this one by Eckharte Tolle where he shares about being in a relationship and the danger of outsourcing your love to another to fill a void. So important! Both of these videos share the sense of the direction we take in S:P (which is now back open for enrolment.)


Following on Instagram: Hot Dudes Reading
I am slightly embarrassed by this but Hot Dudes Reading on instagram is really good. There I said it! I can't help a little cheeky perv at intellectual male-bodied hotties. Hehe.
Loving: Reprogramming Meditations
You can find meditations that work on the subconscious mind everywhere. Go to YouTube and type in a topic such as 'Self love hypnosis' and see what comes up. The best time to imprint new messages into your subconscious mind is when you start falling asleep and when you just wake up.


Touching: Vitamin A, C and E oil
I've been applying vitamin A, C and E oil onto my skin every night. And I don't just slap it on, I make a daily ritual out of it so that it becomes part of caring for myself.


Doing: Self-loving rituals
I've discovered the power of rituals or self-loving routines. I'm learning that if I ritualise something such as eating or getting up in the morning, I follow a set pattern of actions that help me bring more consciousness to what I'm doing. This might be small things like before I work where I wipe my desk and put oil into an infuser, or dedicating a Sunday afternoon to cooking with friends over zoom and eating together. Speaking of which...


Cooking: Cooking with Nonna Kate!
I'm excited to share about Cooking with Nonna Kate. Every Sunday, Kate has been running Italian cooking classes and we join via Zoom and cook in the comfort of our own homes! Usually cooking classes are so expensive but Kate is offering our community 3 classes for $40AUD starting September 13, 2020. If there's a good turnout, she might keep it going. Affordable cooking classes...yay! The classes will run on Sundays and will be recorded if you can't make it live. This has been the most nourishing thing I've done all year. So far, we've cooked fresh ravioli, minestrone, lasagne and many more traditional dishes. Join us for some Sunday nourishment and email Kate for details: katespanti@outlook.com


I'd love to hear what you're getting into - inspire me! ;)
Much love
Olivia
Want to learn how to find the hidden potential of your cervix?
Sign up to receive our free eBook 'Find Your C-Spot' and embark on an exploration of this untapped part of your body.
The information which is provided on this website is not intended to be medical advice, nor does it replace professional medical advice, diagnosis or treatment.Please consult with your health practitioner or professional care provider with any questions or concerns you may have regarding any health condition or any other condition that you may have before starting any program or course, engaging in any other activity or program described in our content, or using any products provided on our website. Read more.
Leave a comment (all fields required)
Comments will be approved before showing up.