Healing HPV and cervical dysplasia naturally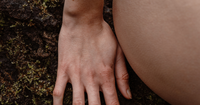 One of the hot topics surrounding the cervix is how to heal HPV and cervical dysplasia naturally. This is a difficult territory to navigate because how we handle our health or viruses is a personal process. I do feel though, that more information is needed so we can make informed choices before choosing biopsies and Leep/Lletz procedures.
I had the pleasure of interviewing Dennell Barbara Nawrocki from Cervical Wellness. She's the expert in healing naturally and has just written a book on the topic called Informed Aware & Empowered.
In this interview we cover:
Healing vs treatment
The energetic and emotional causes of cervical dysplasia and HPV
The actual facts around likelihood of cancer that will help you relax
The three best things you can do to start your healing journey naturally
Two healthy practices for cervical care for everyone
I think this interview is important for us ALL to listen to so we can take some power back and be more informed.
After all, most of us know or have known someone going through this process and the more we know, the more we can offer in support.
Love and healing,
Olivia
The information which is provided on this website is not intended to be medical advice, nor does it replace professional medical advice, diagnosis or treatment.Please consult with your health practitioner or professional care provider with any questions or concerns you may have regarding any health condition or any other condition that you may have before starting any program or course, engaging in any other activity or program described in our content, or using any products provided on our website. Read more.
Want to learn how to find the hidden potential of your cervix?
Sign up to receive our free eBook 'Find Your C-Spot' and embark on an exploration of this untapped part of your body.
Comments (1 Response)
Leave a comment (all fields required)
Comments will be approved before showing up.