6 reasons to give up the clit-gasm (for something deeper!)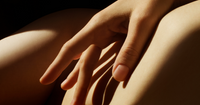 If you've been around conscious sexuality spaces, you may have heard a teacher recommend giving up clitoral orgasm and climax. Say what?
This was hard for me to fathom in my early days. After all, a clitoral orgasm was the only orgasm I could have, if I was lucky (using a vibrator or working reallyyy hard to experience one).

I believe that every kind of orgasm offers a different gift. It's really important that we love all of the ways we can experience pleasure. HOWEVER, I have learnt that there are a few benefits to backing off clit-gasms and climax especially if we want to experience deeper orgasm, pleasure and connection.

Firstly, I want to distinguish what I mean by 'climax'. I mean the build to a peak and then a sudden drop after orgasm. This is usually the clitoral orgasm (but not always) so I will use the clitoral orgasm as the example of a climax we may want to take a break from.

Why take a break from something so pleasurable?

1. To create a new neurological pathway
Our work is about opening up to new possibilities of pleasure and orgasm. This means creating new habits and letting go of old ones.
I realised I was stuck in a deep neurological groove that wasn't actually allowing me to grow and evolve my orgasmic experience beyond this.
The clitoral pathway via the Pudendal nerve was so well practised, that internal stimulation of my cervix was dormant and felt boring. I had to take a break to wake up my internal world and this new pathway to pleasure.
What I was actually doing was creating a new brain map for pleasure!

2. Because there's so much more
I used to believe that clitoral stimulation is needed for amazing orgasms. This is a limiting perspective and doesn't take into account the research around cervical orgasm.

After learning a new way, I don't seek clitoral orgasm like I used to during sex. It can make me tense, it makes me goal-focused and it also changes the energy of sex. The connection and depth disappears and orgasm becomes my sole focus. Sometimes I might slide into performing. It's weird.

New sensations will start to open up inside. These grow over time to become orgasmic.

3. You stop getting high and start cultivating connection
So get this: according to clinical psychologist Kayt Sukel, climax provides a chemical high similar to taking heroin. Some of you may experience an addictive quality to your clit-gasms. That's because you're activating the reward system – chasing dopamine and getting a fix. Climax reduces cravings, but not necessarily stress, even though in the moment it feels like a relief.

4. We want more oxytocin and less cortisol
Research by Marnia Robinson in her book Cupids Poison Arrowsuggests that the neuro-chemical response following a clitoral orgasm makes us irritable, often showing up a week or two later! She suggests this may lead to the attraction-repulsion cycle that some lovers experience.
It might be worth noticing your moods after clitoral orgasm. Is there a pattern? Does the high become a low?
On the other hand when you take the dopamine rush out of the picture and just enjoy being present in your body, feeling, pleasuring without a goal for an extended period of time, oxytocin levels rise causing more long term connection with a loved one.

Not only this but oxytocin sets the stage for the beautiful cervical orgasm to occur.

5. Climax might be a good avoidance strategy
You might have a clitoral orgasm when you're feeling lonely or empty. The temporary fix can provide relief but it also allows you to avoid feeling and healing. I notice how I feel emotionally if I go to a clit-gasm. Sometimes it feels a bit like emotional eating except instead of reaching for the chocolate, I reach for the lube. There is nothing wrong with using a clitoral orgasm for relief but if it becomes a way to avoid feeling difficult emotions, it becomes another way to self-abandon.

6. The tension causes a hardness which can reduce sensation
The road to clitoral orgasm is usually a tense one. Have a clitoral orgasm and see for yourself! In our work we are learning to relax, relax, relax… and drop into our bodies, for real.

While we never want to make the beautiful clitoral orgasm wrong or unworthy, we are simply exploring what else and why over preferencing the clitoral orgasm might not be serving our sexual and relationship expansion.

If you're keen to try this with the support of a community, then join us for our Release journey, starting October 4 PST. We change habits, create new paradigms and heal our internal worlds for more pleasure, connection and satisfying expansive orgasm.

We are all in this together, figuring this out and discovering what magic our bodies are capable of.
Love,
Olivia
Want to learn how to find the hidden potential of your cervix?
Sign up to receive our free eBook 'Find Your C-Spot' and embark on an exploration of this untapped part of your body.
Leave a comment (all fields required)
Comments will be approved before showing up.