How to find your sexual mojo as a mum (& have even BETTER sex than before!)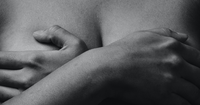 This one is for the mums out there. Though I am not a mama myself, I hear from you all the time: the disconnect, the exhaustion, the marathon tracksuit-pants-wearing, the lack of time and the nights where sex might be on the cards but sleep feels so much better.
So, what do you do when you feel so far away from your sensuality? I know so many mums who worry about the lack of intimacy and the change in connection between partners. I hear about the pressure that you put on yourself to get back in the saddle (often very early). If you're in your first couple of years of new motherhood, give yourself time and permission to be as you are.
If you feel like it is time to get a lil' jiggy, and you are yearning to bring your sensual self to life, I have good news for you. It's more than possible to be a red hot mama, to find your sexual self and love her back to life.
In this interview with Tamica Wilder, Mum and sexologist, we talk about how she reclaimed her sexual self and created an EVEN BETTER relationship to her sexuality than before, after becoming a mother.
Watch and learn:
How to be with a partner when you're exhausted

Simple things you can do to love your body

First steps to reclaiming your body after motherhood

How to create a sex positive household by honouring your own pleasure

How to make space for yourself and your pleasure

The potential of motherhood to expand your sexual experience
Want to learn how to find the hidden potential of your cervix?
Sign up to receive our free eBook 'Find Your C-Spot' and embark on an exploration of this untapped part of your body.
The information which is provided on this website is not intended to be medical advice, nor does it replace professional medical advice, diagnosis or treatment.Please consult with your health practitioner or professional care provider with any questions or concerns you may have regarding any health condition or any other condition that you may have before starting any program or course, engaging in any other activity or program described in our content, or using any products provided on our website. Read more.
Leave a comment (all fields required)
Comments will be approved before showing up.